April 15th, 2016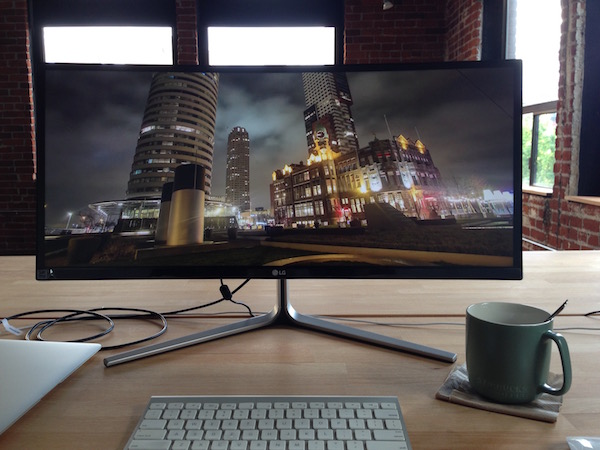 I have a new monitor. It's an LG 29UC97C-B, a 29–inch, curved, "ultrawide" monitor. It cost $500. Getting it was a tiny adventure in time and space.
I really, really, REALLY wanted the LG 34" but my 2012 Macbook Air just can't push that many pixels.
I expected Apple might have a nice (if overpriced) offering. Not really. They are still selling their 2011-era 27" Thunderbolt Display which was kind of unimpressive when it first shipped. At $999 it's almost what that dreamy 34" LG costs! No deal.
Apple does have some sweet displays on their Retina iMacs though. An interview with Marco Arment talking about his iMac got me thinking maybe I was on the wrong track. Maybe I need a new computer. So I went shopping. I had a $4k fully-loaded iMac in my Apple shopping cart before my inner fiscal-conservative woke up. Nope, nope, nope!
Back to monitor shopping, I began to see a divide: ultrawide monitors vs. 5k monitors. So many pixels. But I had my magic numbers: 2560×1600. That's the max my Mac can drive. With that in mind I ran across a review for the Samsung S29E790C, a 29″ curved monitor running 2560×1080. I almost bought that on the spot. It's well reviewed and looked good in the YouTube videos I saw. Then I spotted the LG. Not a lot of info was available. The YouTube reviews I found were in Russian and Mandarin. There was exactly one review on Amazon. Risky!
After some hand-wringing I decided that if I want the big LG in the future, I should try the modest LG right now and see what happens. And that's what I did. I ordered through Amazon but it was drop-shipped directly from Korea. Expedited Shipping was included and it was FAST. I got my monitor less than 48 hours after ordering. (I was lucky. Estimated arrival was anywhere between 2 and 5 days.) The only real hassle in the entire process was finding the right cable for it after it arrived. My Macbook Air has a Thunderbolt port (aka Mini DisplayPort) and the LG has a regular DisplayPort connector. The local Apple Store couldn't help me so I had to find one on my own. A day later I was up and running.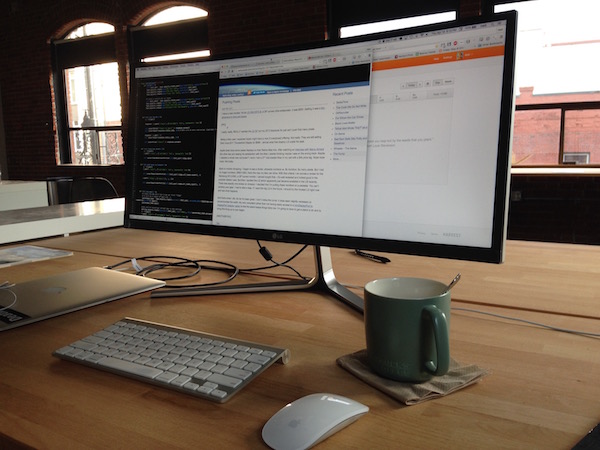 So how is it? I've only had it for three days but so far it's been incredible. I'm still getting used to how to work with it. I've been hunched over a 13" laptop for the past three years. I've found that virtual desktops are actually MORE necessary with this much space, so I'm learning how to manage my Mac all over again. I suspect that the novelty will wear off pretty quickly, but I do think my productivity is going to improve. I've built up a lot of habits on a small screen that I need to unlearn. I'm always running a text editor, a terminal window, and a web browser and switching constantly between them. I can already tell that I'm losing a lot of time tabbing between windows which could be sitting side by side. There's probably a lot more to learn.